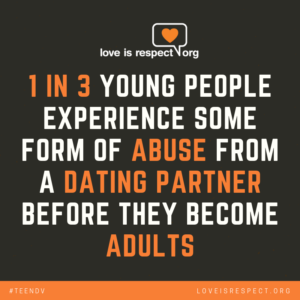 As with domestic violence, there are many types of dating violence, ranging from emotional, psychological, digital, physical, and sexual. Similarly, dating violence is not about drugs or alcohol or anger issues, it's about power and control of one person over another.
 You may be at risk of dating violence if your partner:
•Pressures you for commitment
•Is jealous and possessive
•Manipulates you with lies
•Forbids you to see your friends
•Intimidates you
•Touches you against your will
•Physically hurts you
•Threatens to hurt you if you tell someone or leave
•Blames other people, including you, for their problems, mistakes, or misfortunes
•Views you as their inferior
•Changes from loving to violent from minute to minute
•Is cruel to animals or people
•Forces sexual activity on you
•Insists on checking your phone
What to do if you are experiencing dating violence?
Remember: Dating abuse is never, ever your fault. Talk to someone you trust like a close friend, family member, mentor, teacher, or contact us at the Lake County Crisis Center. We can help you create a safety plan or just be a listening ear. The choice is yours. All our services are 100% confidential. We are NOT mandatory reporters, so the choice and decisions you make are all yours, at your pace, on your time.
Call us today and talk with a trained advocate at 541-947-2449.
Not ready to make the move yet? Consider Visiting the website below.
Learn more about healthy relationships, visit: Loveisrespect.org